« Pain and Stretch Marks | Main | Swish Blog Playlist Mix 27-04-05 »
Dead-Head Gig Hopper
April 25, 2005
Last Tuesday night I decided to do some crazy gig-hopping by going to Help She Can't Swim at 'trocker (Buffalo Bar, Islington) and Battle at Club Fandango (Dublin Castle, Camden). I had intended to write quite a big piece about it for here, and have been trying to write it ever since. I couldn't.
Whether my block had something to do with boozy-brain (mental haziness after drinking), old age (I turned 23 the weekend just past) or just laziness I don't know, but I couldn't do it.
I still haven't been able to write anything down (6 days later!) and I have now officially given up - so I'm going to give you all that I have done:
* Some photos of the two bands.
* A transcription of the notes I had made at the gigs.
I hope you enjoy.
Help She Can't Swim
Artrocker club, Buffalo Bar. Tues 19th April 2005
The girl singer has got some great shorts on - she's such an unlikely front person and seems both uncomfortable and charismatically extroverted at the same time.
'Fermez La Bouche' is by far their best song. Everybody in the crowd is head-nodding but why am I the only one singing along?
'What Would Morrissey Say? is a slowed-down draining behemoth live - on record it skips along jauntily - tonight it seems much more aggressive and threatening, your dancing REALLY does aggravate him.



Battle
Club Fandango, Dublin Castle. Tues 19th April 2005
They love the '80's Battle do. They were originally called 'Killing Moon' after the Echo and the Bunnymen song (presuming they weren't named after the Aeroplane Virus flick) and only changed their name to Battle around the turn of the year. I first became aware of them (as Killing Moon) on the BBC R1 Music Demos Site (and not just because my flatmate runs it) and those original tracks impressed me quite a lot. They've come on in leaps and bounds since then - but haven't 'made it' just yet - they still occupy that "have supported a number of major acts" niche; they're the bridesmaids not the bride, if you like.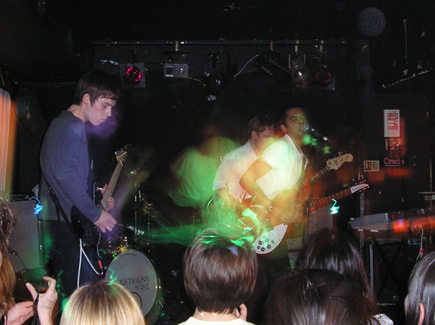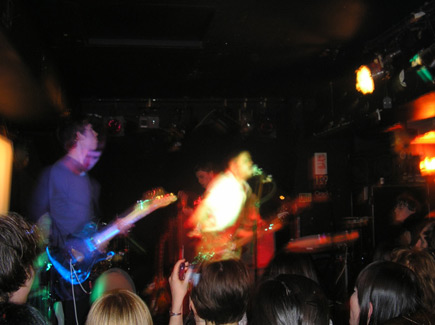 Posted by Chris at April 25, 2005 01:55 PM |
Category: Photos, Reviews