« March 2005 | Home | May 2005 »
Swish Blog Playlist Mix 27-04-05
April 27, 2005
The playlist mixes are back! I know I'm far more excited about these things than you are, but I'm going to still keep making them, especially after the response to the last two was so good (you blew my bloody bandwidth!)
I think this new one has a nice flow to it, starting very quiet, becoming a lot more guitary-and-indie, and then turning into a big shake-your-booty fest at the end. Make sure you check out the Why Lout? remake of Emily Kane by Art Brut (which I think you can still download from the Artrocker site), it's brilliant.
The Swish Blog, Weekly Playlist Mix, 27/04/05
High Quality 160kbps (56MB) | Low Quality 64kbps (22MB)
Tracklisting:


1. Back In Time - Au Revoir Simone
2. Lullaby For Scout In Ten Years - Scout Niblett
3. Amsterdam - Whiskycats
4. Les Fleur - Minnie Riperton
5. Maternity Ward - Art Brut
6. Cuts Across The Land - The Duke Spirit
7. Billy - Dustin's Bar Mitzvah
8. What She Says - Drivin' South
9. Train Track - Wet Dog
10. Sinking Hearts - The Organ
11. If You Don't Take Me Right Away You Might As Well Fuck Off - Strip Squad
12. Got It Twisted Sister - Dopplebanger
13. On And On - Missy Elliot Feat. Pharrell Williams
14. Ulcer Rap - Nigga Bullshit
15. Emily Kane - Why Lout?
If you download the mix and enjoy it, hate it, find it useful or think it's a big waste of my time, please don't hesitate to comment.
Posted by Chris at 10:38 PM |
Comments (4) |
Category: Mixes, Playlists
Dead-Head Gig Hopper
April 25, 2005
Last Tuesday night I decided to do some crazy gig-hopping by going to Help She Can't Swim at 'trocker (Buffalo Bar, Islington) and Battle at Club Fandango (Dublin Castle, Camden). I had intended to write quite a big piece about it for here, and have been trying to write it ever since. I couldn't.
Whether my block had something to do with boozy-brain (mental haziness after drinking), old age (I turned 23 the weekend just past) or just laziness I don't know, but I couldn't do it.
I still haven't been able to write anything down (6 days later!) and I have now officially given up - so I'm going to give you all that I have done:
* Some photos of the two bands.
* A transcription of the notes I had made at the gigs.
I hope you enjoy.
Help She Can't Swim
Artrocker club, Buffalo Bar. Tues 19th April 2005
The girl singer has got some great shorts on - she's such an unlikely front person and seems both uncomfortable and charismatically extroverted at the same time.
'Fermez La Bouche' is by far their best song. Everybody in the crowd is head-nodding but why am I the only one singing along?
'What Would Morrissey Say? is a slowed-down draining behemoth live - on record it skips along jauntily - tonight it seems much more aggressive and threatening, your dancing REALLY does aggravate him.



Battle
Club Fandango, Dublin Castle. Tues 19th April 2005
They love the '80's Battle do. They were originally called 'Killing Moon' after the Echo and the Bunnymen song (presuming they weren't named after the Aeroplane Virus flick) and only changed their name to Battle around the turn of the year. I first became aware of them (as Killing Moon) on the BBC R1 Music Demos Site (and not just because my flatmate runs it) and those original tracks impressed me quite a lot. They've come on in leaps and bounds since then - but haven't 'made it' just yet - they still occupy that "have supported a number of major acts" niche; they're the bridesmaids not the bride, if you like.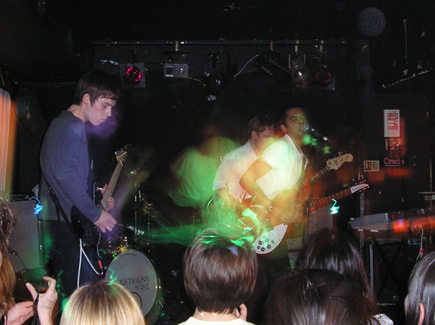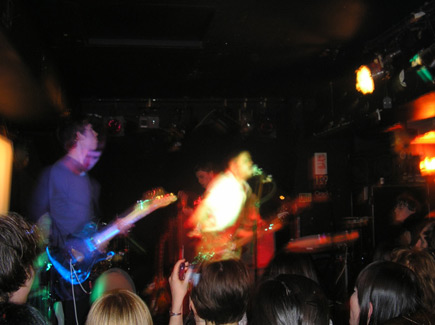 Posted by Chris at 01:55 PM |
Comments (5) |
Category: Photos, Reviews
Pain and Stretch Marks
April 21, 2005

I'm still procrastinating from writing my Help She Can't Swim / Battle review from Tuesday night, so this is just a quick one inspired by a video I found on Music For Robots a couple of days ago.
Anything regarding Mr T is always something to write home about, but this really takes the biscuit - the song Treat Your Mother Right is quality all the way through - but especially so as up until seeing this video I'd thought the song was a Put Down That Science Pole original, but I like it much better this way.
Watch Mr T perform 'Treat Your Mother Right' [wmv] | [mov]
Download Put Down That Science Pole's 'Treat Your Mother Right' [mp3]
(this is the original recording from the album 'The Camry Sessions')
Download Octofists remix of Put Down That Science Pole's 'Mother' [mp3]
Posted by Chris at 11:49 AM |
Comments (2) |
Category: Audio, Video
New Weekly Playlist Mix
April 19, 2005
Here's a new swish-mix for you downloading pleasure - I know it seems too soon (considering the last one went up on Sunday night) but the actual list of songs for that mix has been available on my weekly playlist blog for over a week.
This week is a mix of really new and some reasonably old stuff, but it ebbs and flows quite nicely I think.
The Swish Blog, Weekly Playlist Mix, 19/04/05
High Quality 160kbps (58MB) | Low Quality 64kbps (23MB)
Tracklisting:


1. Blue Orchid - The White Stripes
2. My Oh My - The Rumble Strips
3. Electric Shake - Be Your Own PET
4. Wait - Ying Yang Twins
5. Bez Nadsazky - Nase Vec
6. The Secrets Of Civilisation - The Rogers Sisters
7. Medicine - Sons & Daughters
8. Future Of Circles (Demo) - Action Plan
9. She Said No (Demo) - New Rhodes
10. Running Out Of Time - Hot Hot Heat
11. Mummy Trade - Busted
12. Formed A Band - Art Brut 3.14
13. Moving To L.A. - Art Brut
14. The Whistler - The Magnetix
15. Scag Lover - The White Sport
You may also have noticed that I got rid of the mid-quality version (128kbps); if this was a big problem for you comment and I may consider bringing it back.
Posted by Chris at 04:40 PM |
Category: Mixes, Playlists
Weekly Playlist Downloads
April 17, 2005
OK, thankyou to everyone who commented on whether I should provide a mix-mp3 of the tracks I list in these weekly playlist things; most of you answered in the affirmative so I'm going to give it a go.
Here it is then - there are actually two versions, one high quality (well, 128kbps) and one low quality (64kbps) - please download at-will (don't stream).
The Swish Blog, Weekly Playlist Mix, 16/14/05 - High Quality (45MB)
The Swish Blog, Weekly Playlist Mix, 16/14/05 - Low Quality (22MB)
EDIT: there is now a higher quality version (160kbps) available, for people with big-bad-broadband connections.
The Swish Blog, Weekly Playlist Mix, 16/14/05 - Very High Quality (69MB)

This is the tracklisting:


1. Cigarette Smoke - Arctic Monkeys
2. Martell - The Cribs
3. We Are Infection - Punish The Atom
4. Barbarico - Snow White
5. Dark Clouds - The Rakes
6. Come Back Soon - The B Plan
7. Beauty Scars - Action Plan
8. Police Sweater Blood Vow - The Fiery Furnaces
9. Kiss All My Lurid Element - Mystery Meat
10. C-C (You Set The Fire In Me) - Tom Vek
11. You Got Me - VHS or Beta
12. Hello Tomorrow feat. Karen O - Squeak E Clean
13. The Day Before You Came - The (Real) Tuesday Weld
14. Finding Out True Love Is Blind - Louis XIV
15. Going Missing - Maximo Park
I hope this brings joy to all of your hearts, sorry the files are so big but the mix does last about 45 minutes.
Eventually I should get a podcast stream working for all you overtly techie people – and the files should appear every one to two weeks.
Please comment if you find it useful, or think it's a waste of my time.
Posted by Chris at 12:12 AM |
Comments (4) |
Category: Mixes, Playlists
FREE BOOZE and some photos...
April 15, 2005
Apparently Roger Sergeant charges a fortune to do a photoshoot for a band; and then he tries to sell prints to unsuspecting media workers for £200 quid a pop. I've got a camera, any bands out there want a photoshoot doing?
Last night we went to his exhibition opening at Proud Gallery in Camden, and in my boozed-head it was brilliant. I imagined it to be similar to gallery openings from the swinging sixties, full of crap celebrities and hangers-on. In thirty years time I want to be able to say "I was at the Roger Sergeant exhibition back in 2005 - or the swinging noughties as we used to call them - and it was crazy! People we're drinking bottles of Carling like there was no tomorrow! Such debauchery." I can't wait till I'm old.
Well it wasn't exactly like that; Kasabian, some of the artists formally known as The Libertines, the Queens of Noize and that guy from The Boyfriends were there, but it all felt a bit contrived. Some bands played: Metro Riots were awesome, Dogs were ignored, and Carl Barat only Djed - which upset me as I'd expected a little bit of shambling with a guitar after his comments in the NME this week.
However, Popstar Feets actually went POP (as opposed to Indie-Nonentity Feets); upcoming posts will feature Kasabian, The Killers, Carl Libertine, Gary Libertine and George Bush. Beat that Popjustice.com.
Posted by Chris at 02:55 PM |
Category: Life, Reviews
The B Plan Blew My Mind (A Little)
April 08, 2005
Last night I was blown away by The B Plan. All I'd known of them before last night was that singer Baco (Peter Bacon?) is the bassist is Dustin's Bar Mitzvah – and that he does a pretty good job of singing on 'Kick Him Out' - and a few tracks which are available on their website.
As it is at the moment I know very little more about them than I did then, except after their gig at Stylish Riots at the Rhythm Factory last night, I now know that they are so much more than a Dustin's Bar Mitzvah side project.
Set opener 'Come Back Soon' is a storming singalong classic, the drum and bass lines drag you up out of your slump and into the real world in a way reminiscent of 'Pounding' by the Doves, or something by Minutemen.
Unlike Dustin's they are led primarily by the Rhythm section (as opposed to the thrash-your-guitar-till-it-breaks style employed by DBM), every song they play bangs on your brain like a tribal drum whilst Baco calmly emotes over the top about lost-loves and sleeping around.

Posted by Chris at 05:58 PM |
Category: Photos, Reviews
Arctic Monkeys at the Dublin Castle
April 07, 2005
When an unsigned band - with only mp3 downloads on their website to count as releases - has the majority of a crowd singing along to every word, you know you are witnessing something special. Singer Alex Turner could take breaks from singing throughout the set, occasionally mumbling "you can take it from here…" into the microphone almost as if he was embarrassed by the adulation – but this is not something to shy away from – that situation is usually reserved for the Robbie Williams' and U2s of this world, not four South Yorkshire teenagers.
Arctic Monkeys are on to something big; there is no doubt about that.

Posted by Chris at 05:14 PM |
Comments (4) |
Category: Photos, Reviews
Arctic Monkeys MP3s
April 05, 2005
The Dublin Castle in Camden plays host to Sheffield-super-kids Arctic Monkeys tonight, and I have tickets! This, I can assure you, makes me significantly more excited than should be permitted for a man to feel about four teenage boys; but they are just so damn good. Fresh-faced singer Alex Turner is as bright-eyed and bushy-tailed as they come, his youthful exuberance and wide-eyed outlook on the world gives each song a sort of vitality – every one telling a story that has not only happened to him, but to everyone else on the planet. Simple themes, simply told.
Hopefully I'll write a big old report of the gig in the next couple of days, but in the meantime you should get stuck into some of their music. A number of MP3s from the most recent demo (and some from a live show) are available here www.ilovethesheriff.com. The songs on most recent demo, 'Beneath The Boardwalk', are in most people's opinion their best songs, and I tend to agree, but I managed to get my hands on an earlier recording. It has a completely different set of songs on it, bristling with the same sort of intensity and story-telling prowess of the newer ones – but rarer!
Arctic Monkeys – Choo Choo (Demo)
Arctic Monkeys – On The Run From The MI5 (Demo)
There's also quite a nice little BBC South Yorkshire article that I'd recommend to read here.
Posted by Chris at 05:53 PM |
Category: Audio